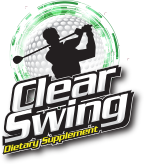 Safely Supports Brain Metabolism
without stimulants enhancing the following…
Focus and concentration
Oxygen to the brain
Cerebral circulation
Neurotransmitter quantity and activity
Brain-cell membrane integrity
Memory formation and recall
Mental alertness
Eyesight and hearing
Brain-cell repair
Clear-thinking
Balanced energy
So, why not give your brain
the Proper Nutrition it Needs?
Clear Swing's natural formula supports brain metabolism and the connections between neurotransmitters, thereby enhancing clarity, focus, and endurance.
Our microcrystalline processes allow pure nutrients to pass the brain barrier and support the way the brain naturally processes information. Clear Swing is a safe and natural way to support this brain metabolism without stimulants.
Our proprietary blend of clinically proven ingredients consists of amino acids, CDP, Citicoline 5 and CQ10 that work together synergistically to rejuvenate and enhance neurotransmissions.
Our patented liquid-gel delivery system will allow golfers to take Clear Swing 30 minutes prior to the beginning of a round and be delivered incrementally in the system over 3-6 hours, keeping you optimally supported, focused, and IN THE ZONE for your entire round.